Drive By Buddy
~ The Black Lips
I have a few bands, that, I've loved in ways, that make me feel like, I've just entered into something that closely resembles, a long distance relationship. Every year or so, they put out a record- you listen to said grouping of songs and all previous material in existence to a near pulp, yet it manages to never get old. You stalk band pictures, read blurbs, and stay up to date on such a band's biggest and smallest of happenings. You love them. You care for them. You want to see them do well. Then you get sight of them playing somewhere in proximity to your home, and like a visit from your boyfriend, who lives over seas or at an opposite end of a state, your body get a warm, tingly feeling of excitement, of a love that feels so one sided, and singular. Then, the day comes: It's a night of pure bliss. You feel like, good, actually still exists in this world: your stomach fills with butterflies in anticipation. Enter somewhere here, in between- hours of metaphorically speaking, mind-blowing, great sex, and then, sadly, as you walk out the door of assumed worshipped band's show, your heart feels, as if it's slowly breaking in two: as though, your long lost lover, is waving goodbye, until a somewhere far off, next time. It's a love that is passionate, yet heart wrenching, and somewhat uncoupled to anything else. It's a love that never gets old or typical. 
A week ago, last Friday, I saw one of my favorite bands, in the whole wide world (outside of Blondie, Blink, No Doubt, and Rancid…of course). This band being, drum roll please, the Black Lips. I fancy myself a well-seasoned vet to Lips shows: excuse my bold assertion. With that said, I can only conclude with the utmost credibility, that the evenings festivities, were like every BL set I'd seen in the past- flawless- in the most unrefined of ways. What an oxymoron of sentences.
"Underneath The Rainbow", the Georgia natives, seventh studio album, and most recent release, wreaks of polished flower punk-dom, with moments of pop, and garage intricately sewn amongst the mix. I'd associate the over all "sound" closely to said record's predecessor, "Arabia Mountain": which showcased, for the first time, the Black Lips, in a far more consumer friendly light, rather than the raw, lo-fi, and seemingly lawless music associated with their earlier days. Tracks such as Drive By Buddy, Smiling, and Dorner Party stand out amongst the bunch; however, Boys in The Wood, notably, was the album's first single. Underneath The Rainbow hints at Wavves, and it's chart topping debut- "King of The Beach", and then, without any real forewarning catapults into twangs of, the band's cultural roots, a hillbilly-esque homage to southern rock.
The opening band, Natural Child, was unsurprisingly, fantastic. The Black Lips have a knack for bringing impeccable bands, on tour with them. I am instantly nostalgic for NoBunny, whose opening performance at The El Rey Theatre in LA (for BL) circa '08/'09, felt like a beacon of hope, for an all to melodramatic, sophomore version of Madi. Needless to say, Natural Child, had a comparably awesome, yet uniquely theirs, in sound, kick off to the night's music. To summarize: it's (or they're) that shit that makes you feel shit. Like, the music version of eating homemade spaghetti and meatballs- it just doesn't get any better, nor comforting than that. 
After an all to satisfying opening set, my heroes of all things loud, chaotic, and vulgar, walked on stage. My heart was even beating somewhere above it's normal rate. I felt the pangs of true love, permeating, first, in the pit of my stomach, and eventually, throughout my whole body. The dance floor of the Paradise Rock Club suddenly changed from a stationary shimmy erected via opening band, Natural Child, into a full-fledged sea of sweat, blood, and tears- traversing all so erratically from one direction, to the next, by the time the Black Lips were into there second song. The floor and it's inhabiting audience may have been far from the status quo "mosh pit"; however, you can rest assured, I walked out more bruised and banged up, than any Fear or Germs set, I had been to, in the past. 
They played an even mix of old and new stuff. The band's second encore, however, payed a certain special tribute to The Almighty Defenders and "All My Loving" (supergroup Black Lips + King Khan…check the 'Stache's archives, for further reading on "thems"). That, my friends, was the defining moment, for me, in their set. I am a devout Almighty Defenders fan, and have fantasized many of nights, in bed, staring at the ceiling, of nothing more than hearing them play, someday, live and in front of me. In some ways, my wishes were fulfilled (minus the king, of course). 
I don't know if it was a flushed-like appearance due to severe dehydration upon such inexplicable water loss/sweating throughout the show, or merely the blushing, of a smitten 21 year old girl; however, that fuzzy, warm feeling of either flush or blush, began to ease up on my cheeks, somewhere towards the end of the evening: and was something, that I will associate forever, with a newfound feeling of pure, unadulterated happiness- and that, that is the sign of a great show.
"We'll be together, cause I really want is you. We'll be forever, cause I gotta stick with you. I'm wearing leather, and I really think it's cool: we'll do whatever…"
- Madi
VVVVVV the Black Lips, last week @ Paradise Rock Club, Boston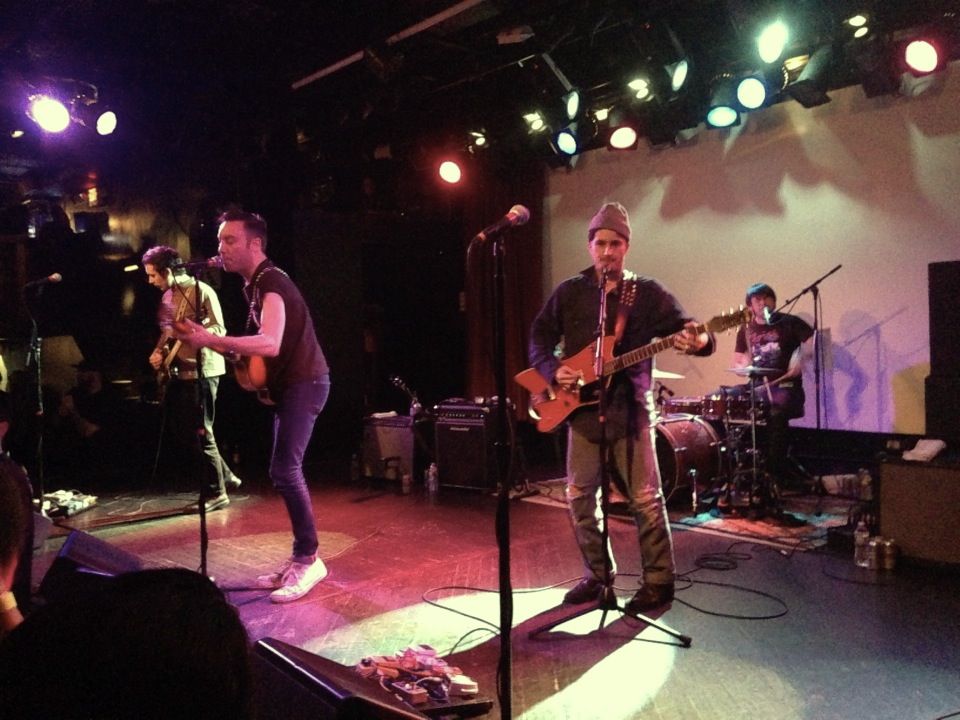 VVVVV Throwback- Madi meets Cole Alexander post El Rey show '07, a mere 14, and popping her flower punk/In Bloom, cherry.